Harvesting chaotic motion into electricity
Added: 7.10.2019 16:50:15 Views count: 1895
07 October 2019
Transmission system capturing 6 degrees of motion ...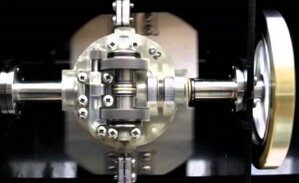 WITT ENERGY, a UK technology supplier, has been recognized with multiple awards. The company has developed and patented scalable technology which utilises a 3D pendulum to drive a unique transmission system, capturing 6 degrees of motion, while turning it into electricity. The product development has been baked by such names as SCHAEFFLER and RICARDO. Technology itself has a global use potential in land, sea and air scenarios.
Click here to find out more.
www.witt-energy.com
Would you like to invest in disruptive clean technologies? So open your account at Saxo Bank, or try a free Demo account
If you are decided to open a personal or business account, let us recommend you as a new client. We can get a standard commission and you can get answers to your questions and get our assistance